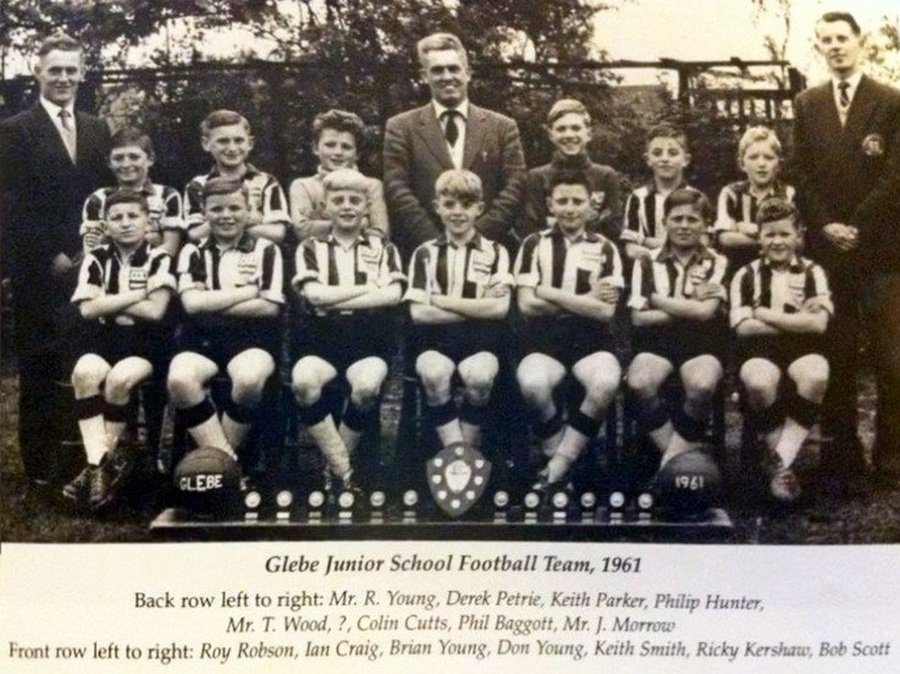 Can you spot any relatives in the photo above?
Next fixture - Matches to be re-arranged vs - Rickleton - Holly Park
Goalscorers so far this season, click on each players name for more information.
21/09/18 - vs Albany & George Washington
A good start to the new football season was made last night in the Autumn Cup - the team played brilliantly. In our first game, a goal by Thomas Hurst was enough to secure the win in a dominant performance.
The second game was a ruthless display, as JFK ran out 3 nil winners against Albany, thanks to goals from Alex McNally, Thomas Hurst and Jordan Dale.
In our final group game, against George Washington, we needed a win to progress due to goal difference. However, despite going 1 nil up, through Alex, we conceded two goals for a 2-1 defeat.
The boys played excellently though and should be proud of how they performed. On to the league now, where we play our first game, on Thursday, at home, against Lambton.
28/09/18 - vs Lambton
Our football team played their first league game of the season last night and ran out comfortable 6 nil victors.
It was a truly dominant display from start to finish from the boys which they should be very happy with. Alex McNally, with 4 goals, was the star of the show from central midfield but was ably supported by Adam Rogers (2 goals) and a solid defence that kept a clean sheet.
Next week, we play two games, versus Blackfell and Marlborough, at Blackfell.
05/10/18 vs Blackfell & Marlborough
The football team produced a battling performance in tricky conditions last night to record a deserved 1-nil victory against Blackfell.
Thomas Hurst popped up with the crucial winner near the end of the first half and the boys comfortably held on for the win.
In the second game, against Marlborough, the boys played brilliantly to go in at half-time with a 3-nil lead (goals from Thomas Hurst x 2 and Adam Rogers). After the break, a few more chances came but to no avail.
However, we were happy with another 2 points and a clean sheet. Next week we play away, against Our Lady Queen of Peace.
12/10/18 vs Our Lady Queen of Peace
In a hard fought game against a strong and physical Our Lady team, JFK came away with a point after a 0-0 draw.
In a tough first half, we found it difficult to get into the game. However, in the second half we came into it more as it opened up.
A brilliant free kick by Owen Watts was saved by their keeper and a good chance saved off a Thomas Hurst shot meant we could have taken it but a draw overall was probably a fair result.
19/10/18 - vs Springwell
In our final game before the league season shuts down for the winter, we came away with an impressive four nil win against Springwell.
The first half did have its dangerous moments as the opposition hit the side netting with a fierce shot and a good cross into the box was headed over the bar.
Thankfully though, Alex McNally popped up with a low shot into the bottom left corner to take a one nil lead at half time. In the second half, JFK had near total domination and had wave after wave of attack; Jonathan Noble in goal hardly had a touch.
Theo Middleton scored the second with a good shot, Thomas Hurst hit the third and Adam Rogers scored a fourth from the penalty spot. Five clean sheets from five games in the opening half of the season is mightily impressive and all of the boys have been fantastic.
We do have two games, from week two, against Rickleton and Holley Park, which were postponed due to a school trip. These will be rearranged at a later date.

16/11/18 - vs Rickleton & Holley Park
Last night, at Washington Leisure Centre, JFK began the defence of their Washington Primary Schools' FUTSAL trophy. First up was Rickleton, this year's winners of the Autumn Cup and currently undefeated in our 7-a-side outdoor league.
It was a really tough game but we more than held our own and probably had the best chances in the game. Unfortunately, we couldn't take one and the game ended 0-0.
In our second game of the night, we played Holley Park and it was another tough game but one where we enjoyed the majority of the possession and had the better chances.
A fine goal from a corner, by Theo Middleton, 10 secs after coming on as a sub, was enough to secure the win. A really pleasing night and two fantastic results.
30/11/18 - vs Biddick, Usworth Colliery & George Washington
Last night, JFK played our last three group games of the 2018 FUTSAL tournament. A comprehensive win against Biddick started the night as we scored five goals without reply (Theo Middleton/Cameron Swan/Owen Watts x 3).
A tougher second game, against Usworth Colliery, saw us struggle to break them down. However, after scoring the first (Theo) we quickly got another two and held on for a comfortable win (Owen and Alex McNally).
Our final game of the night was against our derby rivals, George Washington, and we quickly took the lead (Alex). Despite this, we became sloppy in possession and started to invite pressure.
After a couple of good saves by Jonathan Noble, we eventually conceded – our first in 6 games. Fortunately, we managed to reassert ourselves on the game and scored another two to finish 3-1 (Owen and Adam Rogers).
Well done boys.
14/12/18 - Durham County Girls' Final
Last Friday, our girls' football team played in the County Durham Final at The Riverside, Chester-Le-Street.
A tough opening game ended in a 0-0 draw with Newbottle, although JFK should count themselves unfortunate not to get a penalty near the end for a foul in the box.
In our second game, against Bluecoat, we had more possession but could not work many clear chances. In the end, we conceded from a wonder strike, which we could not do much about.
The final group game was versus St. Leonards and it was another tight game. However, we managed to score through Abigail Watson and then controlled the game for a deserved win.
Our results were not enough to win the group and qualify for the final but the girls should be proud of their efforts throughout the competitions.
........................................................................................................................................................
14/12/18 - FUTSAL Final - vs Our Lady Queen of Peace & Rickleton
After winning the FUTSAL league, played over the previous 5 weeks, JFK and the teams in 2nd and 3rd (OLQP and Rickleton) competed in the A final last night at Washington Leisure Centre.
A tough game first up against OLQP resulted in a one nil defeat for us. In truth, we struggled to find our form from earlier in the tournament and found it difficult to create chances. In the second game of the night, Rickleton defeated OLQP 2-0.
Knowing we needed to win by two clear goals, we came out of the blocks quickly against Rickleton and scored early. We were playing really well and started dominating the game but unfortunately could not score from numerous chances.
A couple of injuries began to quell any momentum we had and Rickleton managed to pull one goal back. In the end, Rickleton won 3-1 and in doing so won the 2018 Washington FUTSAL competition.
Congratulations, girls!
28/02/19 - vs Wessington & Fatfield
Last night, our football team re-commenced their outdoor season with two games at home. In the first game, a dominant display by JFK with plenty of possession led to a two nil victory with goals scored by Adam Rogers and Alex McNally.
In our second game, against Wessington, it was scrappy at times on a difficult pitch but we still managed to create many goal-scoring opportunities.
Fortunately, we were able to take one in the second half, scored by Alex, and closed the game out for another victory.
Well played boys.
08/03/19 - vs Albany & George Washington
Last night, in very tough playing conditions, JFK played two league fixtures against Albany and George Washington Primary Schools. In the first game, we managed to run out comfortable 3-nil victors playing Albany with goals from Adam Rogers and Owen Watts x2.
The second game with George Washington was a more challenging contest but one where we more than held our own. We went in at half-time 1-nil up thanks to a superb free kick from Owen Watts.
Not long into the second half, George Washington equalised after a quick counter-attack. Despite this, our boys kept their heads up and managed to score a brilliant second through Jordan Dale.
The boys should be extremely proud of their performances and of the season as a whole to date. In the league, we are currently sitting with eight wins and a draw from our first nine games.
14/03/19 - vs Barmston & Usworth Colliery
Last night's football fixtures proved to be difficult in challenging conditions: long grass and high winds made it hard for all the boys. In our first game, we went 1-nil up against Barmston thanks to a lovely chip from Adam Rogers. An error at the back, due to the long grass, meant that we went in at half-time all square. Both teams struggled in the second half in what became a scrappy affair and Jonathan Noble, in goal, made some fine saves for us. Fortunately, Adam Rogers was able to get his head on a lovely cross from Jordan Dale to make it 2-1 with
virtually the last action of the game.
In our second game, against Usworth Colliery, we raced into a 2-nil lead thanks to goals from Thomas Hurst. However, Colliery came back to 2-1 before we scored again to make it 3-1 through Thomas Hurst for his hat-trick. Colliery scored a second to make it a nervy finish and with about 30 seconds remaining, Alex McNally made a superb, last-ditch tackle in the box as their striker was about to shoot one-on-one. The game ended soon after and the team got a 3-2 victory to add to the first game.
Two brilliant, battling performances – well done boys.
21/03/19 - vs St Josephs & Biddick
Last night our school football team played away against St. Joseph's and Biddick Primary. In our first game, we dominated possession against St. Joseph's but found it hard to break them down in the final third. Adam Rogers popped up with a goal for us just before half time. Fortunately, we were able to hold on to that lead and closed out the game with a clean sheet.
In our second game, we did not start very well and struggled to get in the game but we did remain solid at the back. Going in at half time 0-0 meant we were still in it. Not long into the second half, Adam Rogers managed to slot one low into the keeper's bottom left corner. After this, the game became quite open with chances at both ends and both teams hitting the crossbar. A few last ditch tackles were also needed by us to keep Biddick out and we were able to do that until the final whistle. Two great wins boys – fantastic!
28/03/19 - vs St Bede's
Last night, our football team played away against St. Bede's. From the start, it was a tough game against very capable opponents; they made it difficult for us all across the park. Despite giving away more possession, we managed to contain St. Bede's to mainly shots from outside the box. Gradually, we got a foot into the game and tried to get the ball wide to use the full width of the pitch. Both teams, however, were quite adept at nullifying the threat of the other and the match ended in stalemate. We have two games (postponed from Week 1 in September) of the regular season left, against Rickleton and Holley Park, which will be played at some point after Easter.
Next week, we host Albany and Lambton in the Year 4 tournament. Good luck to our team in that
competition.
Year 4 - tournament
Last night, our Year 4 football team played in the semi-finals of the WPSFA Year 4 Cup. In the first game, a dominant display from JFK resulted in a 5-nil victory. In the second match, we played Lambton who managed to pose more of a threat. Despite this, we scored two goals without reply to seal two wins from two and a spot in the Year 4 final on the 7th May.
Well done team.
WPSFA Knockout Tournament
Last night our girls' football team played two matches in the first round of the WPSFA knockout tournament. In the first game, we played superbly to go 1-nil up against Biddick. Unfortunately, we could not hold on to the lead and conceded one near the end.
In our second game, we knew we had to beat Blackfell by two clear goals to progress to the next stage of the competition but despite going one nil up through a splendid goal by Connie Graham, we conceded three times after the break. That defeat means that Biddick progress to the next round and we wish them good luck.
Columbia Cup - 1st Round
In last night's Colombia Cup first round, JFK came up against Holley Park and Marlborough Primary School. In the first, against Holley Park, we played a great first half but could not get any luck in front of goal. A penalty and a few one-on-ones went amiss so we went in all square at half time. After the break, Holley Park scored early and from then we struggled to get back in the game. Whilst chasing an equaliser, we left ourselves open and conceded two more.
Following this game, Holley Park beat Marlborough 5 nil, which meant we couldn't proceed to the next round. Despite this, we came out fighting wanting to put on a performance and duly did, beating Marlborough 10 nil. Goals came from right across the team: Adam Rogers (x4), Owen Watts (x2), Thomas Hurst (x2), Theo Middleton (x1) and Thomas Clark (x1). A superb team performance from everyone.
Good luck to Holley Park in the semi-finals.
23/05/19 - Holley Park
Well done to our school football team who battled to a 0v0 draw with Holley Park tonight. It was our first game wearing the new kits we had donated from the Premier League Primary Stars. Thank you very much - the team looked fantastic in them.
Our school football teams from years gone by. Keep an eye out for the celebrity.